ABC of the Carolinas Honors Metcon with Excellence In Construction Awards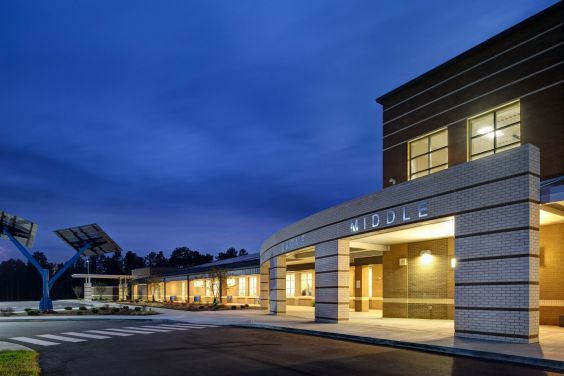 The Associated Builders and Contractors of the Carolinas (ABC) presented Metcon, Inc. with two awards at the 12th annual EIC banquet at the Westin Hotel in Charlotte, NC.  Associated Builders and Contractors of the Carolinas represent the merit construction contractors and related firms in the Carolinas as a chapter of ABC, a national association representing more than 26,000 members. For more news and information visit www.abccarolinas.org.
"The EIC Awards showcases the Best of the Best construction projects in the Carolinas," said Doug Carlson, ABC President & CEO.   "These projects exemplify the expertise of our skilled craftsmen and women, building some amazing Churches, Schools, Hospitals and Commercial Buildings."
Metcon's Sandy Grove Middle School was presented an Eagle award and Progress Energy RESTACK was presented an Honorable Mention EIC award.
Sandy Grove Middle School
The Sandy Grove Middle School project consisted of a 74,000 SF 650 student core building along with associated site development, track, athletic fields & lighting. This project is the 1st "Net Positive" school in the nation.  It incorporates extensive LEED and Green Building components including large Photo Voltaic and Geothermal systems.  The nations First "Net Positive" school which will generate more electricity on site than it needs to operate.  The facility is considered LEED Platinum. Sandy Grove Middle School also won Engineering News & Record Southeast's "2013 Best Project" award in the K12 category.
Progress Energy RESTACK
RESTACK is a high-rise re stacking project for Progress Energy on the Fayetteville Street in downtown Raleigh.  The project is 346,000 sq. ft. registered as LEED for Commercial Interiors, and achieved LEED Gold certification.  The owner occupied structure was guttered and up-fit two floors at a time for a total of 17.5 floors.  The project was a  joint venture project with Brasfield and Gorrie LLC.
Metcon is a Carolinas based General Contracting and Construction Management firm in Pembroke, NC.  The company was founded  in 1999.
Metcon's operations have continued to grow opening a regional office addition in Raleigh, NC in 2011 and now in Charlotte, NC. With over 650 successful project completions Metcon delivers General Contracting and Construction Management services for Higher Education, K-12, Medical, Mission Critical, Industrial, Commercial, Corporate, and Government Entities throughout North and South Carolina.  With their proven success, Metcon was recently recognized by the U.S. Department of Commerce as the 2013 National Minority Contractor of the Year.  Metcon is N.C's largest homegrown minority construction firm.
Media Inquiries:
Donna Locklear
Marketing Manager
Pembroke, NC
p: (910) 521-8013