HUB Certification Training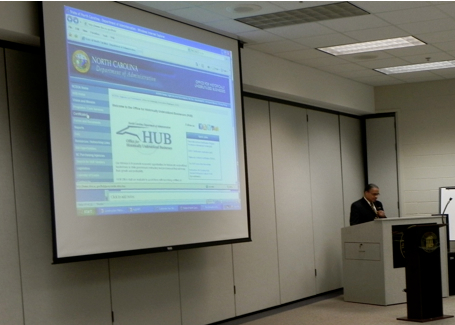 October 3, 2011
Aaron Thomas, Metcon Inc along with Tony Hayes, NC Indian Economic Development Initiative, Inc hosted a HUB Certification Training on September 19th, 2011. HUB Construction Coordinator Grover C. Burthey Jr. done an excellent job speaking on the process of becoming HUB Certified.
What qualifies you to be HUB Certified:
Black, Hispanic, Asian-American, American Indian, Female or a Socially and Economically Disadvantaged person, or Disabled-Owned or a Disabled Business Enterprise.
What are the advantages of becoming certified as a HUB Vendor?
Certification as a HUB vendor provides greater exposure for business opportunities in state procurement and contracting. The names of HUB firms are listed in the Vendor Link System which is widely used by state agencies, universities, community colleges, local schools, local governments and institutions and the public to locate historically underutilized businesses for goods, services and construction.
To learn more about the HUB Certification Process. visit the website at:
Contact:
HUB Construction Coordinator: Grover C. Burthey Jr
(919) 807-2431