Metcon Awarded USC Hamilton College Renovation Project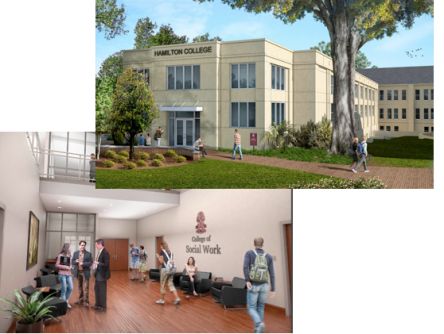 Metcon Inc. was awarded the Hamilton College Buildings renovations and additions project.  Construction began on June 17th and will be complete on June 2015.  The project is  located on the University of South Carolina's campus at the corner of Pendleton Street and Pickens Street and consist of two structures (Pendleton or Armory Wing and Pickens Wing) which are connected by enclosed walkways.  The buildings were originally constructed in 1941 and are currently being used by various University Departments.
The 9,600 sf Pendleton building currently has a gymnasium and office space.  The new construction will add a full second floor and a 1,000 sf addition to the west side.  The addition also creates a new main entrance for the building which is planned to house the College of Social Work.  New HVAC, sprinkler, electrical, lighting, and fire alarm systems will also be added.
The 27,900 sf Pickens building currently houses offices and classroom space.  There will be minor reconfiguration of the spaces to accommodate the Center for Academic Support.
The Hamilton College Buildings renovations and additions project has a LEED "Silver" certification goal and is also on the National Register of Historic Places District List (the official list of the Nation's historic places worthy of preservation).
About Metcon, Inc.
Metcon is a Carolina's based General Contracting & construction management firm.   With over 650 successful project completions Metcon delivers General Contracting and Construction Management services for Higher Education, K-12, Medical, Multi-Family, Industrial, Hospitality, Corporate, and Government Entities throughout North and South Carolina.  Metcon is headquartered in Pembroke, NC with regional offices in Raleigh, NC Charlotte, NC and Columbia, SC.  Metcon is the Carolina's largest homegrown minority construction firm.
Media Inquiries:
Russell C. Partin
VP of Columbia Operations
Metcon Inc.
Email: RPartin@MetconUS.com