Metcon Brings Home the Eagle at the 14th Annual Excellence In Construction Awards!
Metcon brought home the Eagle Award for two new energy positive schools built in Wayne County. Grantham and Spring Creek Middle schools total over 182,000 s.f and are the 2nd and 3rd energy positive schools delivered in the Carolinas. Construction simultaneously started in July 2014 and was completed in August 2015 with an on-time delivery! Metcon Inc./T.A. Loving were the general contractors for these two buildings.
The Excellence in Construction Awards celebration honors the nation's most innovative and high quality construction projects, safety programs and diversity programs. This is Metcon's second "Eagle" award in three years.
Spring Creek MS serves 650 students with the capacity for 800. Grantham MS serves 650 students, with a capacity for 800, allowing future expansion. Each grade level is housed in a separate academic wing, accessed from a small commons. Many of the primary functions, such as the cafeteria, media center, and gymnasium are opened up to the main corridor with floor-to-ceiling glass walls.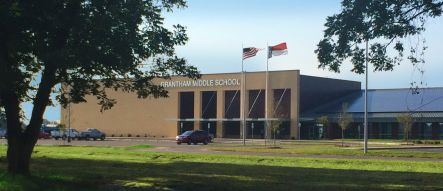 These energy positive schools will combine energy conserving building practices with on-site renewable energy generation to produce 40% more energy than the annual operation of each school requires. Each building is equipped with approximately 2,400 roof-mounted photovoltaic solar panels oriented for optimum solar gain. Additional innovative features in each middle school include geothermal heating and cooling systems, LED lighting, dynamic air cleaning system, spray foam insulation and advanced building
About Metcon, Inc.: Metcon is a Carolina's based General Contracting & construction management firm. With over 700 successful project completions Metcon delivers General Contracting and Construction Management services for Higher Education, K-12, Medical, Multi-Family, Industrial, Hospitality, Corporate, and Government Entities throughout North and South Carolina. Metcon, Inc. is the 2011/2013 National Minority Construction Firm of the Year, and recipient of 2013 ABC Eagle Award for the 1st Energy-Positive Privatized School in America - Sandy Grove Middle School. Metcon is headquartered in Pembroke, NC with regional offices in Raleigh, NC Charlotte, NC, Columbia, SC and Myrtle Beach, SC.

Media Inquiries:
Donna Locklear
Marketing Manager
Pembroke, NC
p: (910) 521-8013
e dlocklear@metconus.com