Metcon CEO Aaron Thomas Reappointed to the NC State Building Commission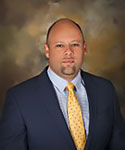 NC Senate Pro Tem Phil Berger has re-appointed Aaron Thomas, President & CEO of Metcon, Inc.  to the North Carolina State Building Commission.  The NC State Building Commission was created within the Department of Administration State Construction Office to develop procedures to direct and guide the State's capital facilities development and management program.  The Commission consists of nine members and is made up primarily of architects, engineers, and construction professionals from across North Carolina.
Thomas stated he looks forward to his service on the State Building Commission and welcomes the opportunity to provide insight regarding North Carolina's public facilities and construction.  He has been elected to serve as the Vice Chairman of the Board.  Thomas founded Metcon and has  served as CEO for the last 15 years.  He holds a Masters Degree in Construction Management from East Carolina University and holds an unlimited/unclassified General Contractors License and is a LEED Accredited Professional.  His appointment will continue throughout June 2018.
About Metcon, Inc.
Metcon is a Carolina's based General Contracting & construction management firm.  With over 700 successful project completions Metcon delivers General Contracting and Construction Management services for Higher Education, K-12, Medical, Multi-Family, Industrial, Hospitality, Corporate, and Government Entities throughout North and South Carolina.  Metcon, Inc. is the 2011/2013 National Minority Construction Firm of the Year, and recipient of 2015 ABC Eagle Award for the Energy-Positive, Grantham and Spring Creek Middle Schools in Wayne County, North Carolina.  Metcon is headquartered in Pembroke, NC with regional offices in Raleigh, NC Charlotte, NC and Columbia, SC.  
Media Inquiries:
Donna Locklear
Marketing Manager
Pembroke, NC
p: (910) 521-8013