Metcon Completes Union Pines High School Gym Complex Addition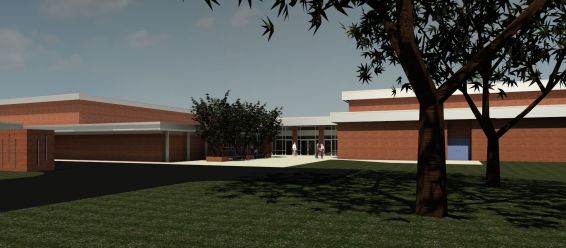 Photo courtesy of SFL+A Architects
On October 17. 2014 a ribbon cutting ceremony was held for the Union Pines High School Gym Complex addition.  Metcon served as the General Contractor and SFL+A served as the architect.  Union Pines Auxiliary Gymnasium is a 18,750 SF addition to Union Pines High School located in Cameron, NC.  The project adds a 2,850 s.f. wrestling facility with storage area and an additional 7,998 s.f. gymnasium for the schools volleyball and basketball programs. The new facility will allow for full court capacity and a variety of athletic events. In addition, a 754 s.f. physical education classroom, a 588 s.f. training room, an office, lobby, two changing rooms with showers, restroom facilities, and mechanical/electrical rooms.
Metcon is no stranger when it comes to k-12 construction projects.  Metcon is known for completing Sandy Grove - the 1st net positive school in America as well as several k-12 renovations in North Carolina.  Most recently, Metcon has construction management at risk contracts for three new K-12 schools; two middle schools in Wayne County and one new elementary in Charlotte, all on schedule to open in 2015. Our Wake County Public School System, E-38 Northwest Cary Elementary school is in the design development phase with construction to start in late May 2015 through July 2016.
About Metcon, Inc.
Metcon is a Carolina's based General Contracting & construction management firm.  With over 650 successful project completions Metcon delivers General Contracting and Construction Management services for Higher Education, K-12, Medical, Multi-Family, Industrial, Hospitality, Corporate, and Government Entities throughout North and South Carolina.  Metcon, Inc. is the 2011/2013 National Minority Construction Firm of the Year, and recent recipient of Engineering News Record's 2013 Best National K12 project for its LEED Platinum, Net-Zero, 100 percent renewable energy, Public Private contracted Sandy Grove Middle School in Hoke County, North Carolina.  Metcon is headquartered in Pembroke, NC with regional offices in Raleigh, NC Charlotte, NC and Columbia, SC.  Metcon is the Carolina's largest homegrown minority construction firm.
Media Inquiries:
Donna Locklear
Marketing Manager
Pembroke, NC
p: (910) 521-8013