Metcon Receives Minority Contractor of the Year for the Southeastern United States
Metcon Inc., was awarded "Minority Firm Construction of the Year" by the Minority Business Development Agency at the MED Week Awards Program on August 10th, 2011 in Atlanta, GA.
The MED Week Awards Program is designed to celebrate and recognize the outstanding achievements of minority entrepreneurs, as well as individuals and organizations that have demonstrated leadership and commitment in advancing minority business enterprise.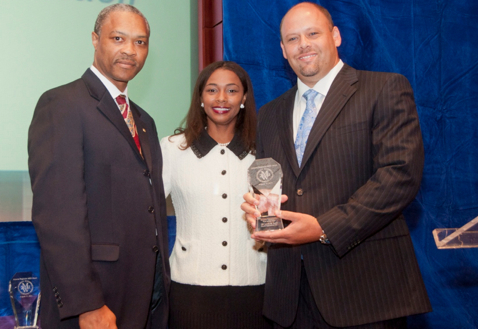 The 29th Annual Minority Enterprise Development (MED) Week - Atlanta Region was recently held in Atlanta featuring a business summit with B2B Strategically planned sessions between entrepreneurs and major corporations and government entities at AT&T in the morning and a awards banquet at Georgia Power that evening. The following companies were honored as best in their category at the banquet.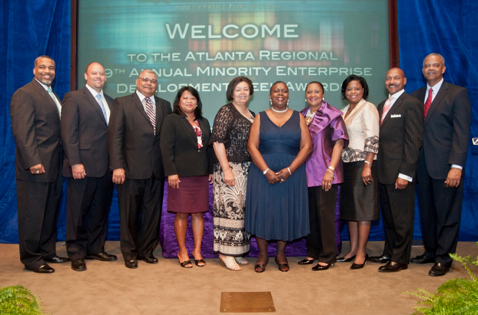 From left:
Adam Walker, Homestead Packaging Solutions, Minority Manufacturer Firm of the Year, Roswell, GA; Aaron Thomas, Metcon Construction, Minority Construction Firm of the Year, Pembroke, NC; Jose Lopez, Marketing Arm International, Inc., Minority Global Supplier Distributor of the Year, Port Charlotte, FL ; Socorro Harvey, Nvision Solutions, Inc., Minority Global Technology Firm of the Year, Bay St. Louis, MS; Pat Lottier, Media Award, Atlanta Tribune: The Magazine, Roswell, GA; Patricia Haines, Minority Business Development Agency (MBDA) Atlanta Regional Director; Johnnie Booker, The Coca Cola Company, Regional Director Award, Atlanta, GA ; Shan Cooper, Lockheed Martin Aeronautics, Corporation of The Year, Marietta, GA; Luke Yancy, Mid-South Minority Business Council Continuum, Advocate of the Year, Memphis TN and Ralph Brown, Trillion Communications, Minority Global Supplier Distributor of the Year, Bessemer, Alabama.
( Photo by Travis Levius)